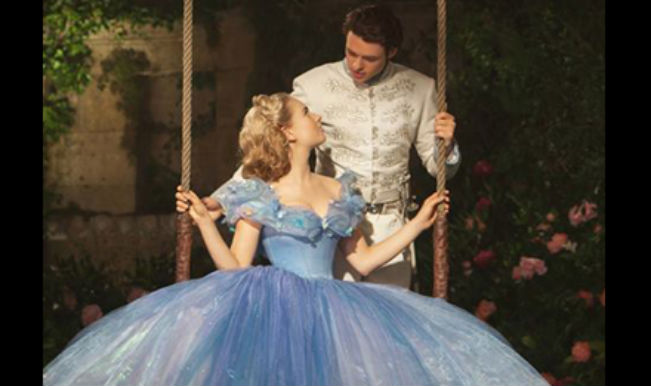 Also Read – Mowgli Trailer: Warner Bros' Epic 'Jungle Book' Tale Comes Back With A Dark Tinge (Watch)
Film: "Cinderella"; Cast: Cate Blanchett, Lily James, Richard Madden, Helena Bonham Carter, Nonso Anozie, Stellan Skarsgard, Sophie McShera, Holliday Grainger, Derek Jacobi, Ben Chaplin, Hayley Atwell, Rob Brydon and Eloise Webb; Director: Kenneth Branagh Also Read – Cannes 2018: Kangana Ranaut Gets Ready To Cast Black Spell On The Red Carpet! View First Pictures
Disney's live-action film "Cinderella", crafted with pomp and splendour as a typically traditional fairytale by director Kenneth Branagh, reiterates the oft heard story of how an orphan girl, harassed by her cruel step-mother and equally harsh step-sisters, marries a Prince. Laced with life-lessons for everybody, this film is more than just a sweet fantasy romance drama. The tone of the narration is laid at the very beginning, when little Ella (Eloise Webb) tells her mother, "I believe in everything". And, as the story unravels, you are aware of what to expect and yet, wonder how the film got its name Cinderella, when the protagonist is called Ella. READ: Lily James went on liquid diet for Cinderella Also Read – Cannes Film Festival 2018 Opened by Martin Scorsese and Cate Blanchett, With a Selfie Free Red Carpet
The telling has all the elements like a caring father, a nasty step-mother Lady Tremaine and her daughters Drisella and Anastasia, Prince Charming, Fairy Godmother, the Pumpkin turning into a carriage, the mice into horses, lizards as footmen, the goose as the carriage rider and the glass shoes. They make you nostalgic.
As the story moves at a brisk pace with a few distinctively funny and emotional moments, you are glued to the screen. You simply become aware of the freshness of the approach and the simple, yet minute, logical stances that the director takes. And where it deviates and expands upon, it does so in ways that add nuance and depth. These help not only to make the tale credible, but likeable also.
The film belongs to television actress Lily James who plays the grown-up Cinderella. Her sweet demeanour is reflected by her "kindness and courage". And physically, her transformation from a housemaid to "the beautiful princess to be" is mesmerising. Aptly paired opposite her is Richard Madden, the charming Prince who she fondly refers to as "Mr. Kits". The onscreen chemistry between them is palpable and that makes their romance believable. READ: Cinderella Sneak Peak: Midnight Changes Everything for the Disney Princess
Ben Chaplin and Hayley Atwell as Cinderella's loving and caring biological parents are functional. Their scenes with Cinderella are synthetically sweet. Their equation seems tailored to heighten the contrast delivered by the antagonists.
Cate Blanchett as Mrs. Tremaine, Sophie McShera as Drisella, Holliday Grainger as Anastasia and Helena Bonham Carter as the Fairy Godmother make their presence felt with dramatic overtures. Their scenes are theatrical and engaging.
The dialogues are characteristically a Disney product — very crisp, chirpy and intermittently spiked with tasteful and elegant humour.
Visually, the elaborate earthy and picturesque sets by production designer Dante Ferrett, period costumes by Sandy Powell and fine performances by the actors are brilliantly captured by cinematographer Haris Zambarloukos. With smooth camera movements, his wide angle shots, especially the colourful ballroom scene and the last mastershot, are compelling.
The computer generated images are of fine quality and captivating. The dancing butterflies, the digitally rendered animals and their magical transformation along with Cinderella's makeover, mesh smoothly into the live-action drama. Cinderella's race against time when she has to return home before the last stroke of midnight is thrilling, as well as fascinating.
In modern times and with a questioning audience, the only issue this timeless classic faces is its oversight to justify how could Cinderella have a laidback attitude and wait for destiny to play its part? And the uncalled for, deliberate low-neck gowns that the ladies wore at the ball gave the scene a vulgar tinge. Nevertheless, this "Cinderella" with "her courage, kindness and a little bit of magic" is worth a watch.
Rating: *** stars
$(document).ready(function(){ $('#commentbtn').on("click",function(){ (function(d, s, id) { var js, fjs = d.getElementsByTagName(s)[0]; if (d.getElementById(id)) return; js = d.createElement(s); js.id = id; js.src = "https://connect.facebook.net/en_US/all.js#xfbml=1&appId=178196885542208"; fjs.parentNode.insertBefore(js, fjs); }(document, 'script', 'facebook-jssdk'));
$(".cmntbox").toggle(); }); });



Source link