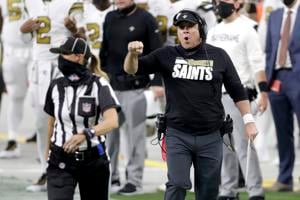 I am launching a crowdfunding drive, and hope you will contribute whatever you can to help New Orleans Saints coach Sean Payton out of a jam.
We reported Wednesday that the NFL has ordered him to pay a "hefty" fine for not wearing a mask on Monday Night Football. The poor devil must be wondering how he'll put food on the table.
Somehow he must come up with $100,000. Even if you believe that the coronavirus is real, and those 200,000 dead Americans aren't faking it, I am sure you won't want Sean to suffer for sporting his neck gaiter at chin level. It may have left his nose and mouth exposed, which does admittedly remove the prophylactic point, but the cravat effect was quite dashing.
And think how much he will suffer in parting with $100,000. Sean rubs along on about $10 million a year. He'll have to work hours to make enough to pay his fine.
The Saints got whupped Monday by the Raiders, whose coach, Jon Gruden, also appeared barefaced on screens nationwide. He has been fined $100,000 too. It will be some consolation that he, like Payton, is one of the highest paid coaches in the NFL, but he must be feeling the pinch.
Too bad. Let them raise money for him in Las Vegas. There's a bunch of it sloshing around there, and New Orleans must concentrate on its own charity case.
Monday night's was the first game played at Allegiant Stadium, the $1.9 billion dome in Las Vegas, which the Raiders now call home. They just relocated to Bugsy Siegel's old stomping ground after 60 years in California, shifting back and forth between Oakland and Los Angeles.
The NFL is reputedly strongly opposed to gambling as a threat to the "integrity" of its games, but players and officials are allowed most of the delights of Vegas. Sure, they can't bet on NFL games, but they are allowed to enter a sportsbook, even during the season, if they are merely passing through to a "permissible area of a casino." They can't own or run a casino, but they can shoot craps or play poker all night long. It is not entirely unknown for shady characters to hang around joints devoted to gambling and drinking, but the NFL trusts its own.
The NFL is as keen to arrest the spread of COVID-19 as it is to ensure that nobody in its employ is tempted to fix a game. Thus, not only were the coaches hit with fines, but the Saints and Raiders organizations must each pay $250,000. That'll teach them! They'll be sure to keep their coaches in line from now on.
Not really. These outfits rake in so much dough from government and commercial sources that an NFL owner finding $250,000 in the street probably wouldn't bother to pick it up.
We are told that the coronavirus is spread through invisible clouds of droplets and aerosols expelled in the breath of infected persons. Those clouds travel further and linger longer indoors and when voices are raised. That is a bummer, for coaches tend to yell throughout games, and American football is largely played indoors these days, although the inside of a dome is not what you would call a confined space. Still, our two coaches were no less reckless and selfish than those jackasses who ignore signs requiring masks in, say, grocery stores. Gruden duly issued an apology. A few other coaches have also been fined for going maskless.
Neither Payton nor Gruden can doubt that the virus is a serious threat, since both have caught it and recovered. That may make them less likely to infect others, but masks are required by NFL rule, and coaches are supposed to be role models. When some of them adopt the same cavalier attitude as President Donald Trump, the coronavirus death toll can only rise.
A single-layer cloth neck gaiter is not, in any case, going to provide as much protection against the coronavirus as a surgical mask. It's better than nothing, provided it is not worn too low, but you need to send your money in fast. That way, if there is any money left after the coach's fine has been paid, we can buy a whole box of masks.
Email James Gill at gill504nola@gmail.com.