Prince and Princess of Wales and Duke and Duchess of Sussex arrive in Windsor
William and Catherine, the Prince and Princess of Wales have arrived in Windsor – alongside Harry and Meghan, the Duke and Duchess of Sussex.
The two couples arrived at Cambridge Gate and are now at the public part of the park to read the floral tributes.
Key events
Canada officially proclaims King Charles III as head of state
King Charles III has been officially proclaimed Canada's monarch Saturday in a ceremony in Ottawa. Associated Press reports:
Charles automatically became king when Queen Elizabeth II died Thursday. But like the ceremony in the United Kingdom hours earlier, the accession ceremony in Canada is a key constitutional and ceremonial step in introducing the new monarch to the country.
Charles is now is the head of state in Canada, which is a member of the British Commonwealth of former colonies.
"Canada has enjoyed a long history and a close friendship with His Majesty King Charles III, who has visited our country many times over the years," Prime Minister Justin Trudeau said in a statement.
"On behalf of the Government of Canada, we affirm our loyalty to Canada's new King, His Majesty King Charles III, and offer him our full support."
French prime minister Emmanuel Macron has shared his condolences with UK counterpart Liz Truss via Twitter, emphasising his hope to strengthen ties between France and the UK, and work together on issues including food and energy security, and the war on Ukraine.
I'm Tess McClure, and will be managing the liveblog through the rest of the UK night. We're expecting coverage in the coming hours of proclamation ceremonies in New Zealand and Australia – the two commonwealth countries will be officially proclaiming King Charles III as their head of state. At around noon on Sunday, we're also expecting simultaneous proclamations to be made in Edinburgh, Cardiff and Belfast.
Australian prime minister Anthony Albanese has announced the country will hold a public holiday on September 22, as a national day of mourning for the Queen.
In Australia, the governor general, David Hurley, will officially proclaim King Charles III as the country's new head of state.
Hurley will make the pronouncement at a special meeting of the Federal Executive Council at Government House at 11am local time on Sunday, the first time a proclamation has been read at the current Parliament house.
A public ceremony will also be held outside Parliament House in Sydney.
King Charles III's proclamation ceremony will be taking place in Wellington, New Zealand, at 12.30pm local time.
A day of ceremony and history in the making had one unforeseen moment for the new King – when he found an item on a table stopping him from signing documents.
Charles is known to carry his own fountain pen for when he is frequently called on to sign visitors' books during royal visits.
So when he sat down during his first privy council meeting to sign documents, he gestured for an ornate pen holder to be taken away by an aide.
Later it was back in place, after privy councillors used its pens to sign documents, but King Charles once again took offence to the item, when called upon to give his signature, and pulled a face before it was removed again.
Sir Tony Blair, the former UK prime minister, believes King Charles III is well prepared for what lay ahead.
Writing in The Sunday Times, he said: "I feel for King Charles at this moment of heavy responsibility. But I also believe in him.
"Reinforced by his mother's example, his attachment to duty is clear. He is an intelligent, caring and good man. His sense of service to his people and his love for them will be as profound as hers.
"Do not imagine for an instant that in the long years past he has not watched, absorbed and thought about what it means to be king. He is well prepared and, I have no doubt, resilient for the task ahead."
The Duke and Duchess of Sussex's children Archie and Lili remain master and miss on the royal website rather than prince and princess, but King Charles III's spokesperson pledged to update it "as and when we get information".
While William's title in the line of succession as the Prince of Wales has been swiftly added with his children now listed as "of Wales", Archie and Lili's had not changed on Saturday.
They are technically now a prince and a princess because their grandfather has become King, but it has not been confirmed by their parents or Buckingham Palace whether they will use the titles.
The King's spokesperson said the monarch had announced William and Kate's titles as the Prince and Princess of Wales, and expressed his love for Harry and Meghan in his address to the nation on Friday.
"While the website was updated for the Waleses, clearly updating love on a website doesn't quite work so we've not quite done that but clearly he does love them. We will be working through updating the website as and when we get information," he said on Saturday.
Asked whether Archie and Lili would take the titles of prince and princess, he said: "At the moment, we're focused on the next 10 days and as and when we get information, we will update that website."
David Cameron, the UK's former prime minister, believes King Charles will become a "brilliant" monarch after serving the "longest apprenticeship in history".
He disclosed that when he was in office, he had audiences with the then Prince of Wales so the royal could prepare for the day when, as sovereign, he was holding weekly meetings with the premier.
"I had audiences with Prince Charles when Queen Elizabeth II was on the throne because he wanted to start thinking about how to conduct those audiences," Cameron told the BBC's Sunday With Laura Kuenssberg programme.
"From what I saw he will be brilliant at that job. Brilliant at listening, brilliant at asking questions, giving wise advice and sage counsel. This has probably been the longest apprenticeship in history."
Cameron added: "I saw him in action at Commonwealth heads of government meetings and he knows everybody personally, he interacts with them brilliantly.
"The soft power that the British monarch brings to help a prime minister and a government with all those international relations, it was obviously outstanding under Queen Elizabeth II.
"I think you will see Charles III will be a very worthy successor in that regard."
The late Queen lies in an oak coffin in a "scene of quiet dignity" in the Ballroom of Balmoral Castle.
Draped with the Royal Standard for Scotland and with a wreath of flowers on top, it has remained at rest to allow loyal Balmoral estate workers, who devoted years of service to the monarch, to pay their last respects.
It will be lifted into a hearse on Sunday at 10am by six of the estate's gamekeepers, who have been tasked with the symbolic gesture, ready for a six-hour journey to Edinburgh.
A Palace spokeswoman said: "It is obviously people who have known Her Majesty well and it's a personal connection."
The arrangements at Balmoral are being overseen by Richard Gledson, factor of the Balmoral Estate, with the Reverend Kenneth MacKenzie, minister of Crathie Church, in attendance.
Mourners will be able to view the Queen's coffin from 5pm on Monday, City of Edinburgh Council has said.
The late monarch will lie in state at St Giles' Cathedral on Edinburgh's High Street for 24 hours and members of the royal family, including the King, will stand beside the coffin from 7.20pm in a tradition known as the Vigil of the Princes.
The Princess Royal will accompany the Queen's body back to London on 13 September.
King Charles III spent two terms at Geelong Grammar's Timbertop campus in Australia where he was embraced by students as one of their own.
A nice anecdote from the Most Rev Stephen Cottrell, the Archbishop of York, speaking in Parliament today about the time when he "healed" the Queen's Bentley after it refused to start.
He said on one occasion he performed "a large sign of the cross" over the Queen's Bentley after the driver was unable to start it.
"I had preached in Sandringham parish church. We were standing outside. The Bentley was there to get the Queen, the Bentley didn't start," he said.
"It made that throaty noise that cars make in the middle of winter when they are not going to start.
"Everybody stands there doing nothing. I am expecting a policeman to intervene. Nothing happens.
"Enjoying the theatre of the moment, I step forward and made a large sign of the cross over the Queen's car to the enjoyment of the crowd. There were hundreds of people there – it was the Queen.
"I see the Queen out the corner of my eye looking rather stony-faced at this point and I think perhaps I've over-stepped the mark.
"Anyway, the driver tries the car again and, praise the Lord, the car started.
"The Queen gets in and goes back to Sandringham. I follow in another car.
"When I arrive at Sandringham as I come into lunch, the Queen with a beaming smile says, 'Ah, bishop. It's the bishop. He healed my car'."
The cleric added: "Two years later when I was greeting her at the west front of Chelmsford Cathedral just as a very grand service was about to start, she took me to one side and said, 'Bishop, nice to see you again. I think the car's all right today, but if I have any problems I will know where to come.'"
The front page of Sunday's Observer newspaper.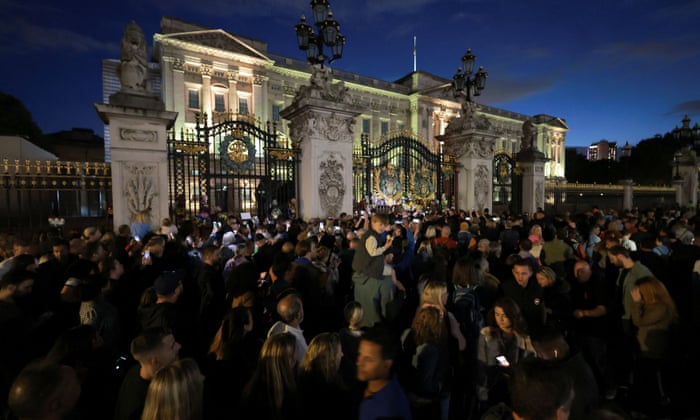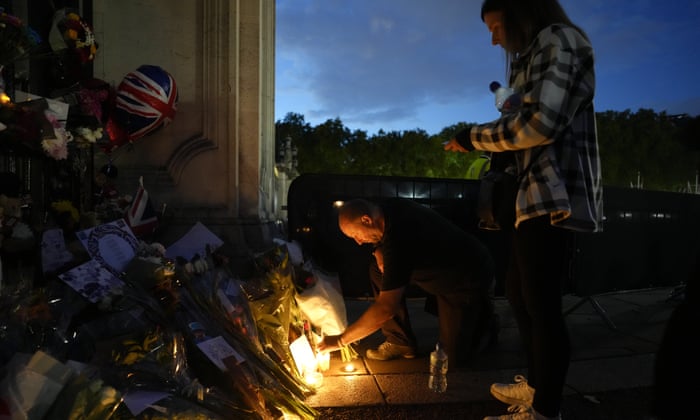 MPs have wrapped up two days of tributes to the late Queen in the House of Commons.
Closing the second day, Commons leader Penny Mordaunt said: "Our great Queen has entrusted us all with a living legacy of triumph over tribulation, of cheerfulness over challenge, of dedication and determination.
"She has left us. Her values remain with us. Her example compels us to continued fidelity to our King and our country. God save the King."
A humble address conveying "deep sympathy" to the King and his family for their loss was agreed unanimously. It also paid tribute to the Queen for her "unstinting dedication", and expressed the House's "loyalty" to the King.
"This has been an amazing tribute," Commons speaker Sir Lindsay Hoyle said, adding "when the House comes together it comes together in a very special way, and there has been none more special than these last two days."
A total of 321 contributions were made over both days.
Camilla as 'the Queen', a question for the future, King's spokesperson says
The question of whether the royal households will ever refer to Camilla as "the Queen" rather than "Queen Consort" could be contemplated in future, the King's spokesperson has said.
Camilla is technically Her Majesty the Queen as the wife of the King, but in their briefings and statements Buckingham Palace has so far referred to her as Queen Consort.
Asked if Camilla would always be known as Queen Consort, a spokesperson for the King did not rule out a shift. He added, however, that the pair were concentrating on the events of the next week and a half.
"The King and Queen Consort are focused on getting through those next 10 days," he said.
"I think those who saw the Queen Consort yesterday movingly meeting people outside Buckingham Palace know how moved she is at the moment and that's her focus so that will be a question for the future."